About this Face Oil Remover Sheets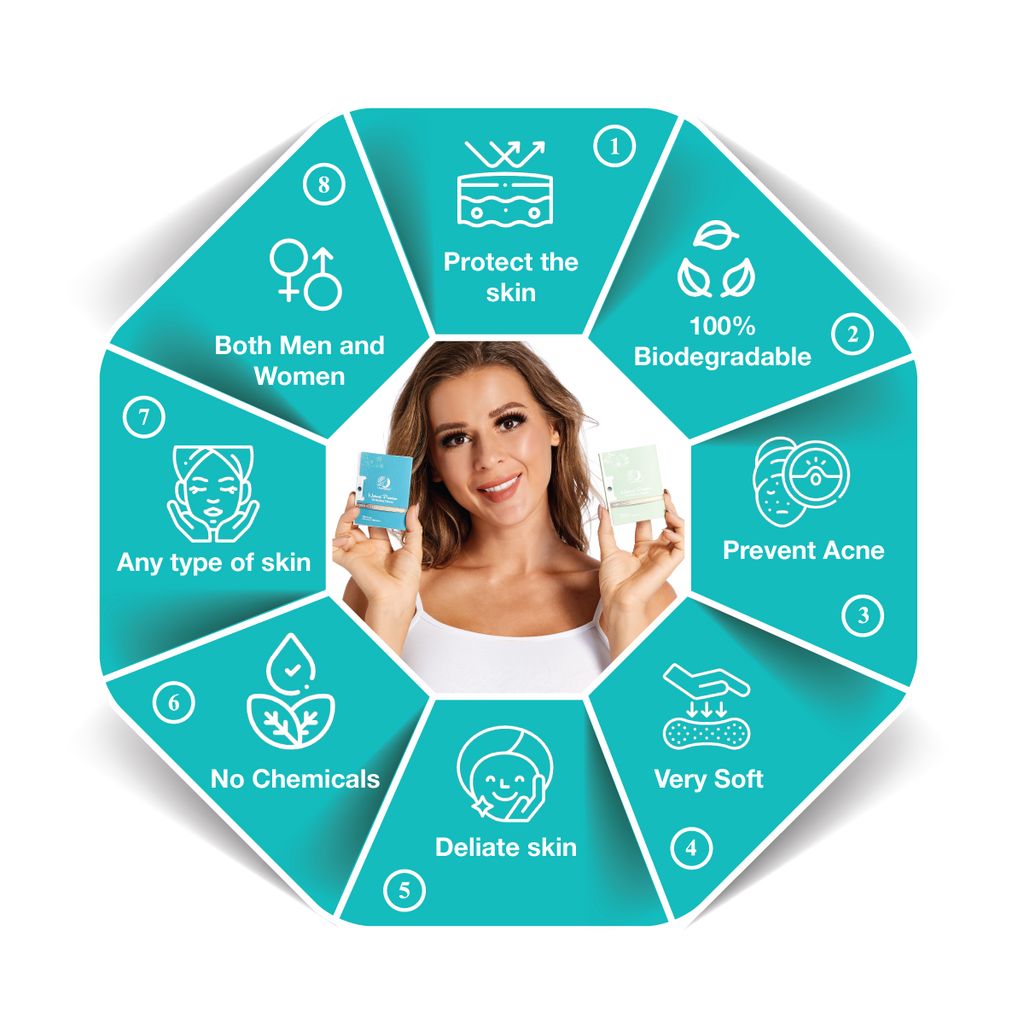 Product: Blotting paper absorbs oil without harming the look and feel of your skin.  It is for use before and after applying your makeup and does nothing to spoil the look.  This is the perfect product for any occasion and is ideal for any type of skin.   This oil blotting paper is made for makeup application.  It is an ideal product for any occasion and any skin type.  The paper is also perfect for use before and after applying your makeup.
✓ OIL-FREE! FAST-ACTING! COMES with 1 Compact Makeup Mirror for purses and travel, 1 Pack of PleasingCare Natural Premium Green Tea Oil Blotting Tissues 100 sheets which perfectly fit into the handy exquisite silver foldable cosmetic mirror. Rapidly absorb excess oils and help control shine without any powder. Each sheet use soothes, protects, and refreshes your face with a natural green tea fragrance
THIS BLOTTING PAPER ABSORBS OIL WITHOUT HARMING THE LOOK AND FEEL OF YOUR SKIN.:  with this nifty mirror that also includes oil blotting paper.   The oil blotting paper from pleasing care is a great solution for when you need to look fresh and flawless.  The oil-absorbent paper is safe to use with makeup, so you can use it whenever you need to.
IT DOES SO WHILE HELPING TO PREVENT ACNE:   N/A  The Makeup Mirror with face oil remover sheets- a fantastic tool to have in your makeup bag.  It has a compact mirror that can be flipped to face up to help you check on your makeup.
IT IS FOR USE BEFORE AND AFTER APPLYING YOUR MAKEUP AND DOES NOTHING TO SPOIL THE LOOK.:  The mirror comes with a set of facial oil blotting papers that will help you apply your makeup flawlessly.   The mirror in this product is a great size for a compact mirror and the lights in the mirror are a nice touch.  The mirror is coated in a protective coating that makes it wipe clean and clean and the mirror doesn't scratch your face.
THERE ARE NO CHEMICALS INVOLVED. IT IS IDEAL FOR THOSE WITH VERY SOFT, DELICATE SKIN.:  It is a makeup mirror that can be used without makeup.  You can use it to apply makeup or to take off makeup.  It is perfect for those with very soft, delicate skin.  Lovely skin starts with a perfect face.  The make-up mirror combined with facial oil blotting paper is the perfect combination to start fresh, maintain your skin's natural radiance.
THIS IS THE PERFECT PRODUCT FOR ANY OCCASION AND IS IDEAL FOR ANY TYPE OF SKIN. :   This mirror provides a clear and natural view of your whole face so you can perfect your look.  The mirror is great for all occasions and can be used for any type of skin.   Your face is your most prized possession.  Keep it looking fresh, clear, and radiant with this makeup mirror with oil blotting paper.   The perfect product for any occasion and is ideal for any type of skin.
Ready for Seeing a Fresh and Pretty You?

This set comes with both a clear makeup mirror and a no-shiny-face must-have face oil remove sheets pack! Ensure you are always in perfect condition no matter before leaving the house, begin a meeting or during a party, keep you looking polished, and refresh all day!

COMPACT SIZE FOR PURSES: easily fits into your handbag, cosmetic bag, or carry-on; touch up your hair or makeup anytime, anywhere. Perfect for any special days, such as birthdays, anniversaries, Christmas, travel holidays, and more.

The silver makeup Mirror size: L9 x W7 x H1.8 cm = L3.5" x W2.7" x H0.7"
The facial oil blotting paper pack size: L8.5 x W6.5 cm = L3.3" x W2.5"
Chic Design
The sparkling silver finish gives this mirror a chic look, practical and elegant.
Treat yourself and your friends to this great gift now!
Our Zero-Risk 100% Satisfaction Guarantee!

Skin Care Products -Face Oil Remover sheets by PleasingCare always carry a money-back guarantee so go ahead and give them a try. You won't lose! Click the "ADD TO CART" button and order Now!
If you are not 100% fully satisfied you can return it within 30 days for a full refund with no questions asked.
You can also buy more skincare-related products.