About the oil absorbing sheets
PleasingCare Oil Absorbing Tissues, made with 100% Natural linens, particularly adding a superfine grain of natural green tea ingredients, which is known for its restorative properties and ability to draw out impurities, this product is gentle on the skin and won't clog pores. The paper is soft but not easy to tear, and it has a clean, relief-like texture that prevents acne and provides a photo-ready, fresh-faced look.
100% Satisfaction Guaranteed!
Skin Care products by PleasingCare always carry a money-back guarantee so go ahead and give them a try. You won't lose! Click the "ADD TO CART" button and order Now!
If you are not 100% fully satisfied you can return it within 30 days for a full refund with no questions asked.
Ingredients: 100% Natural linens with Organic Green Tea factor, no artificial ingredients.
Directions: Gently blot oily areas of your face. Repeat as needed. Do not rub. You can also buy more skincare-related products.
These oil-absorbing tissues are perfect for oily skin and makeup removal. They're also easy to carry and use.
SUPER FAST SHIPPING! Shipping to the United States, UK, Canada, or Japan
OIL-FREE! FAST-ACTING! PleasingCare Premium Oil Blotting Tissues rapidly absorb excess oils and these oil-absorbing sheets are designed to control shine without any powder. It soothes, protects, and refreshes your face with a natural green tea fragrance.
EASY TO USE DISPENSER! Our easy-to-use dispenser ensures that you only use one sheet at a time, preventing waste while keeping the remaining tissues safe, fresh, and sanitary.
GREAT FOR BOTH MEN AND WOMEN! FOR YOURSELF OR AS A GIFT! This product is perfect for use at home, at the gym, or in the office. It's also a great gift idea.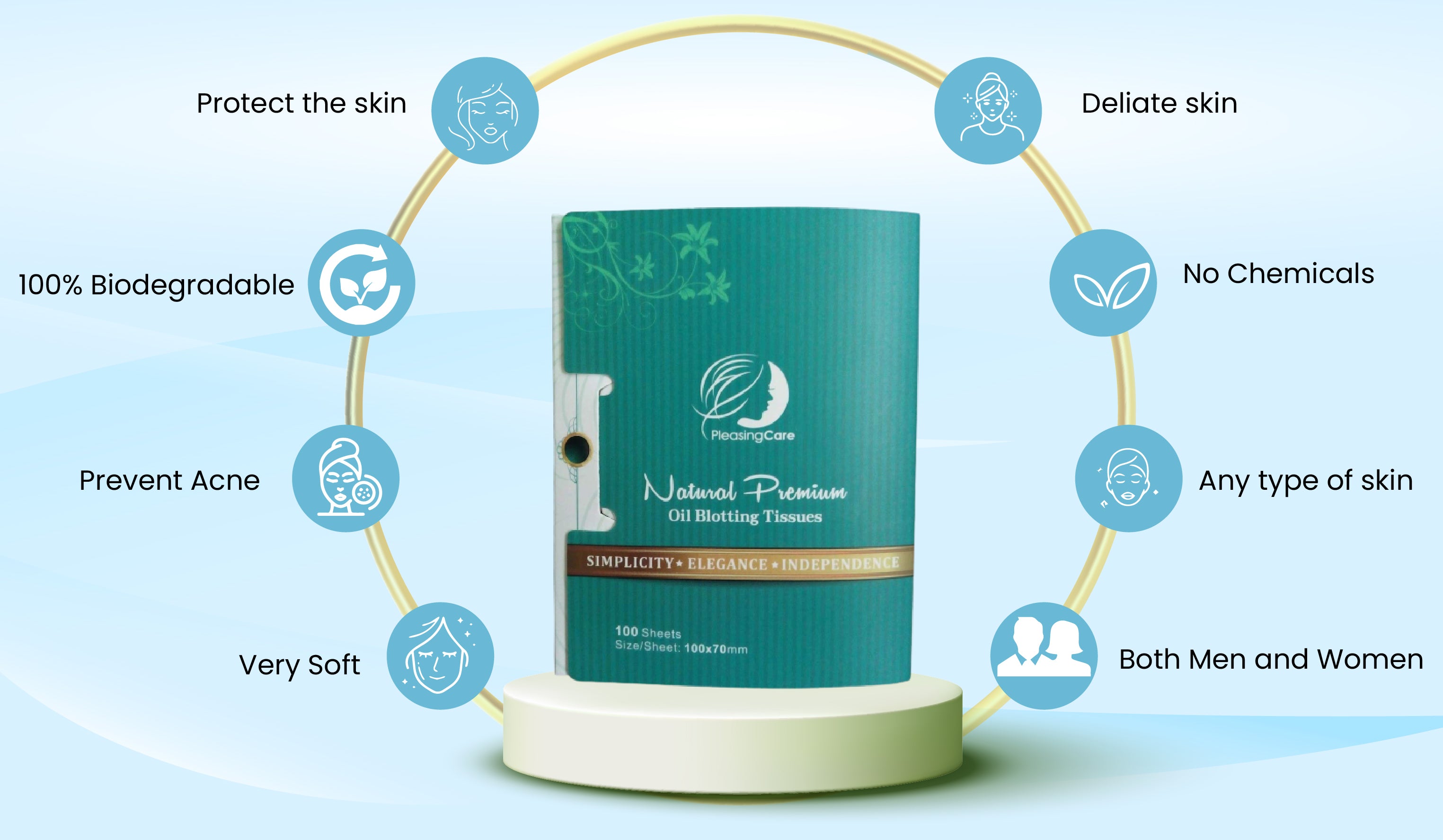 GUARANTEED 100% NATURAL! PleasingCare Natural Premium Oil Blotting Tissues are made from 100% natural linen fibers with organic green tea for freshness. The soft, gentle to the skin 10 cm large size oil paper makes them just right for cleansing your entire face with a single tissue. Use both sides!
PERFECT PACKAGING FOR HOME, CAR, OFFICE, OR ON THE GO! The smartly designed package (8.5 x 6.5 cm) is perfect for your purse or pocket, elegant yet neutral.
USING PleasingCare® Natural Premium Oil Blotting Tissues is like saying "Hello!" to a more beautiful and radiant you again and again!
The Ultimate Guide To Face Oils And How To Choose The Best One
What are Face Oils?
Face oils are made of natural ingredients extracted from plants; they are also called essential or plant oils. It's a common misconception that face oils are moisturizers, but the truth is they are not. Face oils don't absorb moisturizer in the air; instead, they form a coating that locks the moisturizer in your skin, keeping it fresh and hydrated.

Many people with oily skin avoid using face oils due to the fear of oilier skin. However, like all skincare products, you can get facial oil specific to your skin. Besides, they are made of natural plant oils and therefore are suitable for all skin types. Another great alternative to removing excess oil is using Pleasing Care's Natural Green Tea Oil Absorbing Tissues. These are soft and highly absorbent. With just a few pats, you can get rid of oil, dust, and other impurities that might later clog the pores.
The Benefits of Adding Face Oils to Your Skin Care Routine:
All facial oils are made with ingredients that work in harmony with the naturally present in our skin. Together, they hydrate the skin and decrease the production of sebum in our skin. In addition, facial oils are made of fatty acids such as linoleic, oleic, palmitic, and stearic, which help protect and strengthen our skin's outer layer. This allows them to moisturize our skin and prevent dehydration of the cells effectively. Finally, add vitamin C and E to your facial oils, which keep your skin healthy and moisturize it.
What Role Do Face Oils Play In Skin Care Routine?
Facial oils have become essential for all types of skincare routines. Whether you are using them as moisturizers or removing makeup, their impact is undeniable. Facial oils made of natural plant oils are nutritious for the skin, whereas the emulsifying ones are excellent at removing makeup. However, facial oils do provide the following main benefits regardless of their purpose of use.
Natural Moisturizers: Our skin secretes oil to keep it hydrated and nourished. Facial oils not only lock them but also keep the skin soft and nourished. Since they form a protective layer, there is no chance for moisturizers to evaporate.
Antioxidants: All facial oils protect the skin from the harmful elements in the air, thus making them excellent antioxidants. The pollutants in the air and the UV radiations speed up the aging of your skin. However, facial oils remove such impurities and keep the skin fresh and young.
Cleansers: Facial oils are now extensively used as makeup cleansers. Facial oils remove the makeup and cleanse the skin gently and softly to prevent breakage and irritation. These are especially useful for people with sensitive skin.
The pointers mentioned above are necessary to maintain healthy skin for all types, and facial oils do them more effectively and efficiently than any other beauty product.
How Do Face Oils Work?
The primary function of facial oils is to keep the skin hydrated, soft, and nourished. All facial oils do this in two ways:
Emollients: They help keep the epidermis (outer layer of the skin) soft and fresh. Keeping the skin fresh and glowing is a vital part of any skincare routine, and emollients are good at doing that.
Occlusive: This is the primary function of all facial oils. They lock the moisturizer in the skin cells and prevent evaporation. As a result, your skin stays perfectly hydrated and also ages slowly. When appropriately used, facial oils are the best products to counter the aging of the skin cells. Both emollients and occlusive work together to keep your skin fresh and prevent rapid aging of the cells.
The Best Oils for Different Skin Types
Although facial oils perform best when used on dry skin, they can be applied to all skin types. Following is a brief guide of essential oils best suited for each skin type.
The Best Face Oils for Normal Skin:
Not many people are blessed with normal skin, but those need the following facial oils to get the best results.
Argan Oil: This can be used with all skin types making it the best facial oil. Vitamin E and linoleic acid will moisturize your skin lightly and help with acne.
Squalane Oil: It is light, meaning not too oily or greasy making them perfect for normal skin. Due to their lightness, they don't clog the pores. Instead, they keep the oils locked and make your skin soft.
Retinol Oil: It is known to slow down the aging of skin cells, reducing the pore size and maintaining the health of your skin. It is also excellent at keeping the hydration levels of your ski
The Best Face Oils for Dry Skin:
People with dry skin find facial oils extremely helpful in maintaining the balance of different nutrients in their skin. Following are some facial oils, and you can choose the suitable face oil for dry skin according to your need.
Marula Oil: It is extracted from the marula fruit tree and is rich in protein. It keeps the skin moisturized; prevents aging and stretch marks. Hence it's the best face oil for dry skin.
Almond Oil: It acts as an emollient, which helps keep the skin hydrated and improves the complexion and skin tone.
Avocado Oil: contains antioxidants and vitamins that heal the skin, reduce dryness, and prevent skin breaking. Avocado oil is one of the best remedies for treating the effects of dry skin, especially in dry or cold weather.
The Best Face Oils for Acne-Prone Skin
Acne is the worst problem your skin can suffer from. Use the following oils to prevent and counter the problem:
Pomegranate Oil: It contains antimicrobials due to vitamin C in the fruit. The reason why this oil is effective against acne is those microbes fight bacteria and fungi causing it.
Rosehip Oil: It controls the sebum and oil production in our skin, which eventually helps fight acne, opens blocked pores, and prevents blackheads.
Coconut Oil: It has lauric acid in it, which is an enemy of all bacteria. The bacteria in your skin cause acne and coconut oil targets them and helps reduce acne scarring.
Pleasing Care's Natural Green Tea Absorbing Tissues are known for their restoring properties. If you have acne-prone skin, using these tissues one or two times a day will help absorb the oil on your skin. It ultimately helps in eliminating the bacteria causing acne and also restoring the affected areas.
The Best Face Oils for Oily Skin
Using recommended face oil for oily skin can counter excessive shine or oil on your skin. Following are some of the recommended ones;
Peppermint Oil: It is known to control excess secretion of oils from the skin. This further prevents clogged pores and acne problems in oily skin.
Grape Seed Oil: It is known to penetrate your skin without making it oily. Not just this, this oil is also good at repairing damaged skin and helping with oily skin acne.
Tea Tree Oil: This oil is antiseptic, which is an excellent counter for oily skin. Tea tree oil fights off the bacteria that cause acne and also moisturizes the skin to prevent breaking.
Although the mentioned oils will not leave your skin greasy, just in case, keep Pleasing Care's Natural Green Tea Absorbing Tissues at your side. They are made from natural green tea extracts, which not only remove excess oil but also refresh and nourish the skin.
The Best Face Oils for Combination Skin
This skin type is standard; many people have dry, oily, and normal skin combined. Following are the oils best for combination skin.
Jojoba oil: Due to its anti-inflammatory and healing properties, it fights bacteria and keeps the skin moisturized.
Marula oil: This oil battles rapid aging of the cells, opens blocked pores, and prevents stretch marks on the skin.
Flaxseed oil: It contains lignans and antioxidants, which help with wrinkles. Moreover, the fatty acids in it keep the skin hydrated and soft.
The Best Face Oils for Sensitive Skin:
If you have sensitive skin, then only the recommended products will help your skin. Have a look at the following recommended facial oils;
Aloe Vera Oil: It contains vitamin A and C and antioxidants that help against the breaking of skin and the formation of bacteria.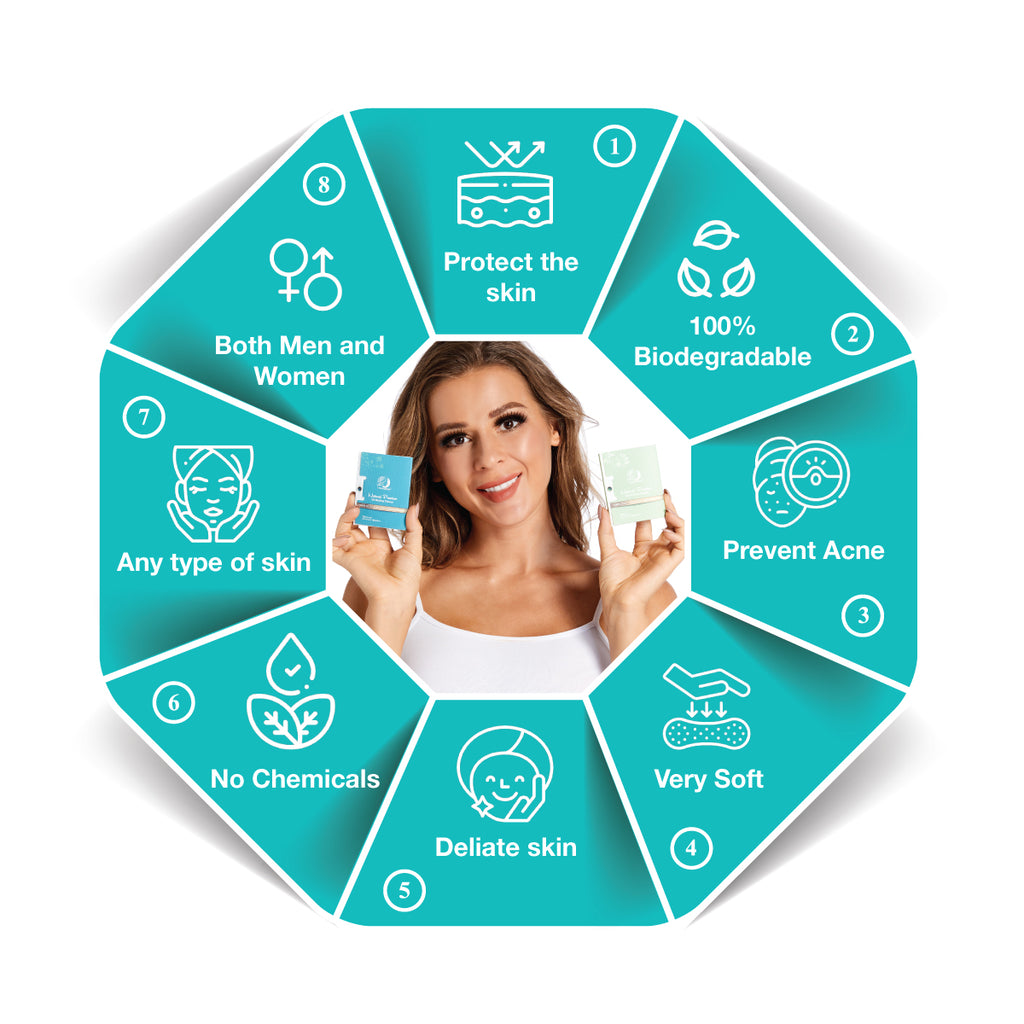 Moringa Oil: Due to its antioxidants and high omega content, it is excellent at keeping your skin soft and smooth. It also repairs the damaged areas of your skin, making it the best face oil for glowing skin.
Castor Oil: It is known to help with blocked pores and the prevention of blackheads. People with sensitive skin are recommended castor oil because of its ability to keep the skin moisturized and reduce skin breakage.
Face Oils to Avoid:
Following are some of the concentrated face oils that you need to avoid for all skin types.
Citrus Oil: It contains phototoxic ingredients, which react with UV light and causes blisters and burns on the skin.
Essential Oils: These oils absorb, quickly which can result in blocked pores and other side effects. Their effects on the skin can become poisonous.
Eucalyptus Oil: Pure eucalyptus oil can be fatal, especially if ingested accidentally. It should not be used in concentrated form at all costs and used after diluting with some other oil.
Geranium Oil: It can cause a rash or burn when used in its concentrated form. If necessary, mix it with some other oil that reduces its purity and makes it safe for the skin.
Lavender oil: When exposed to sunlight, this oil can cause irritations and allergic reactions. Therefore it's recommended not to use the oil in its pure form.
The Best Face Oils for Glowing Skin:
If you are looking for glowing skin, use the following facial oils to get the best result.
Tea Tree Oil: It is known for its anti-bacterial properties, which is why you need to use them for glowing skin.
Jojoba Oil: It is similar to our skin oils, making this oil a perfect fit for the skin. It keeps the skin hydrated and prevents pores from blocking, resulting in glowing skin.
Rosehip Seed Oil: It is a natural exfoliator that can help reduce the dullness of the skin. Due to this, it is considered to be the best face oil for glowing skin.
Argan Oil: It is light and contains vitamin E and fatty acids. As a result, your skin remains fresh and glowing throughout the day.
Coconut Oil is known for its hydrating properties, making it a perfect option for glowing skin.
If you don't feel comfortable using these oils, you can use Pleasing Care's Natural Green Tea Absorbing Tissues to calm down your oily skin. These affordable and skin-friendly blotting sheets will leave your skin glowing and refreshed.
How to Properly Apply Face Oils?
Depending on your skin type, there are different ways to apply face oils correctly. The most straightforward hack is to use the lightest to the heaviest method. Use the most lightweight ingredients in your skincare routine first, and then proceed accordingly. Have a look at the following tips to get the most out of your face oils.
Always use a combination of serums and moisturizers to get the best results. Serums help with the treatment of the skin, while moisturizers hydrate the skin cells. The oil locks both these properties for an extended period.
You should only use face oils recommended for your skin type; otherwise, you will not get the desired effects.
Don't be aggressive when applying them; otherwise, you may experience irritation and redness of the skin.
When to Apply Face Oil?
Face oils are used after applying moisturizer to your skin. This allows them to perform effectively throughout the day, keeping dust and other impurities at bay. However, you can also use certain facial oils at night to get the maximum nutrients for your skin.
How to Use Facial Oil?
Following is a complete guide on how to apply face oils effectively;
Start by cleansing your face and removing makeup. This also allows the skin to be free of any dust or other impurities.
Apply moisturizers and other serums before using facial oil. This helps the oil to form a coating that locks hydration and prevents dryness.
Don't ever massage or rub your face when applying facial oil. Instead, pat the areas where you want it for the best results.
How to Deal With Excess Oil without Disturbing Makeup
It becomes a problem if excessive oil is used after cleansing and applying makeup. It can make your skin appear extremely shiny and greasy. If you want to remove excess oil without disturbing your makeup, go for Pleasing Care Natural Green Tea Oil-Absorbing Tissues. These are made of natural linen fibers infused with green tea extracts. With a couple of gentle pats on the affected area, you will remove the excess oil without disturbing your makeup. Moreover, the product will leave your skin feeling smooth and refreshed.
Additional Tips:
To get the most out of your facial oils, you can follow some of these additional tips.
Try and mix different facial oils to get the maximum benefits and the best results.
Use it as an eye cream because they are made of natural ingredients; facial oils are not harmful to your eyes.
It is recommended that you use facial oils to enhance the hair growth of your lashes and eyebrows.