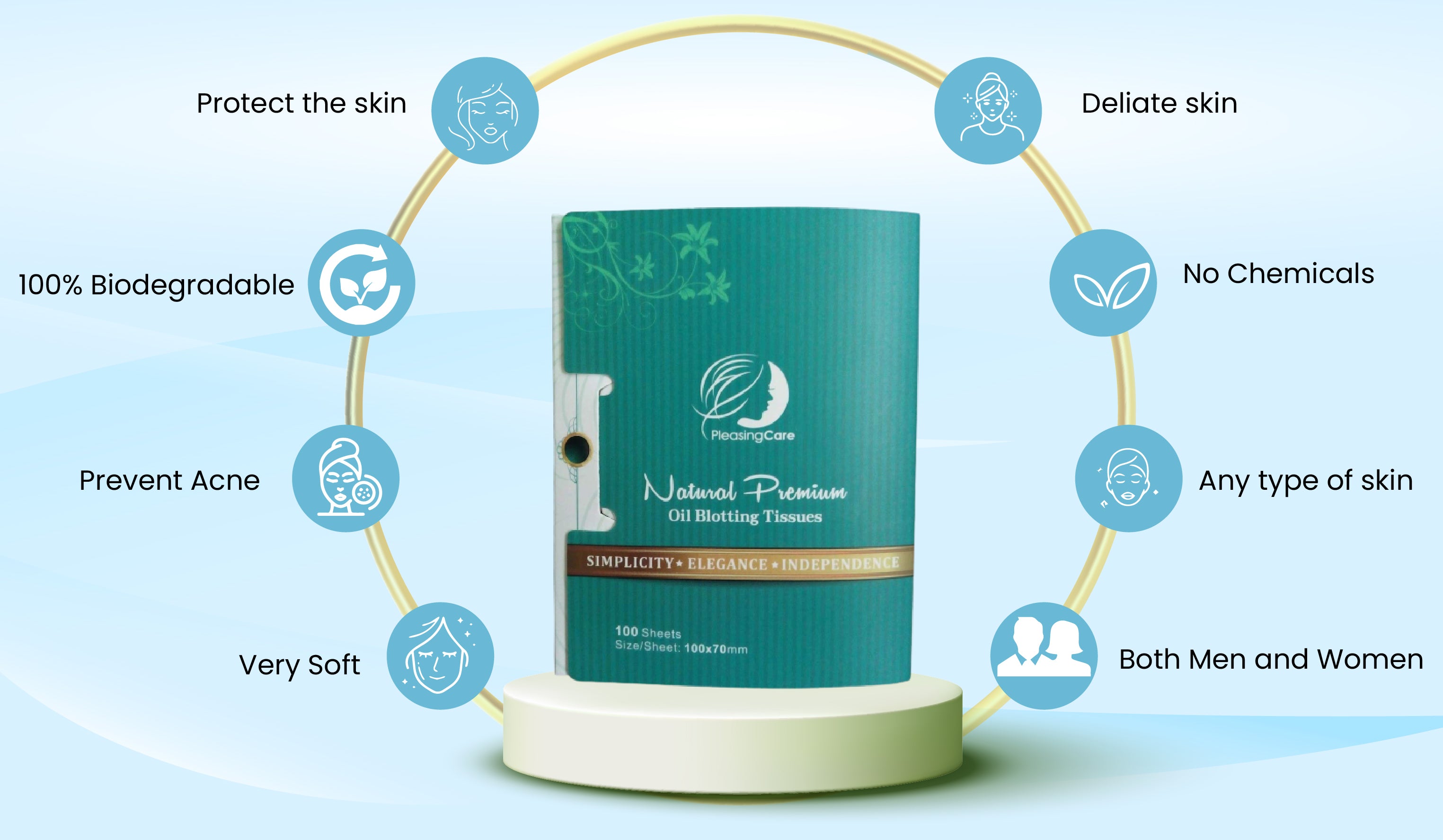 These oil-absorbing tissues are perfect for oily skin and makeup removal. They're also easy to carry and use.
SUPER FAST SHIPPING!  Shipping to the United States, UK, Canada, or Japan
OIL-FREE! FAST-ACTING! PleasingCare Premium Oil Blotting Tissues rapidly absorb excess oils and these oil-absorbing sheets are designed to control shine without any powder. It soothes, protects, and refreshes your face with a natural green tea fragrance.
EASY TO USE DISPENSER! Our easy-to-use dispenser ensures that you only use one sheet at a time, preventing waste while keeping the remaining tissues safe, fresh, and sanitary.
GREAT FOR BOTH MEN AND WOMEN! FOR YOURSELF OR AS A GIFT! This product is perfect for use at home, at the gym, or in the office. It's also a great gift idea.
GUARANTEED 100% NATURAL! PleasingCare Natural Premium Oil Blotting Tissues are made from 100% natural linen fibers with organic green tea for freshness. The soft, gentle to the skin 10 cm large size oil paper makes them just right for cleansing your entire face with a single tissue. Use both sides!
PERFECT PACKAGING FOR HOME, CAR, OFFICE, OR ON THE GO! The smartly designed package (8.5 x 6.5 cm) is perfect for your purse or pocket, elegant yet neutral.
USING PleasingCare® Natural Premium Oil Blotting Tissues is like saying "Hello!" to a more beautiful and radiant you again and again!
PleasingCare Oil absorbing sheets

Description
Solve your trouble with oily skin now!

PleasingCare Oil Absorbing Tissues, made with 100% Natural linens, particularly adding a superfine grain of natural green tea ingredients, which is known for its restorative properties and ability to draw out impurities, this product is gentle on the skin and won't clog pores. The paper is soft but not easy to tear, and it has a clean, relief-like texture that prevents acne and provides a photo-ready, fresh-faced look.

100% Satisfaction Guaranteed!

Skin Care products by PleasingCare always carry a money-back guarantee so go ahead and give them a try. You won't lose! Click the "ADD TO CART" button and order Now!
If you are not 100% fully satisfied you can return it within 30 days for a full refund with no questions asked.
Ingredients:
100% Natural linens with Organic Green Tea factor, no artificial ingredients.
Directions:
Gently blot oily areas of your face. Repeat as needed. Do not rub.
You can also buy more skincare-related products. 


What are the Benefits of Facials on Oily Skin?
What are your tips to apply makeup-for teens?
What can I use to prevent sweating when wearing makeup?
Why does My Skin become Oily after I Take a Shower?