Have you experienced unwanted shine on your face mid-way through your day at the office? Have you gone out dancing, looked in the mirror, only to see a build-up of sweat wearing away your perfectly done makeup? This is when you'll need to equip yourself with some blotting paper.

Blotting paper or blotting sheets are a simple and easy tool to conveniently dab away excess oil and sweat on the go. Makeup touch-ups, dabbing away shine, and achieving a matte finish are now as easy as ever.

This article will cover everything you need to know about blotting paper, how to use them, and what to look for when choosing one.
What Is Blotting Paper?
Blotting paper is used on the skin to help absorb visible excess oil and sweat. For many, these can prevent overly-shiny skin and oil buildup that can accumulate over time. A blotting paper is a small sheet of very thin, extra-absorbent tissue-like paper that you use to pick up excess oil and moisture with minimal disturbances to your makeup.

Fortunately, you can use oil blotting sheets as often as needed, depending on how oily your skin is that day. For some, that may be more often, especially during the hotter, more humid summer days when you still want a shine-free look.

Modern oil-control blotting paper have received some major upgrades. You can now choose ones with active ingredients like black charcoal or green tea, making them even more effective at blotting away oil and preserving your makeup.
Benefits of Blotting Paper for Oily Skin
Let's dive into the benefits that blotting paper can have for you:
Removes excess shine from skin — Shine from both oil and sweat can accumulate on the skin and disintegrate your makeup. Luckily, blotters can help prevent this.
Everyone can use them — Blotting paper is not just for oily, acne-prone skin. In fact, people with dry, normal, and combination skin types can use them. They're also great for your T-zone, which includes your nose, forehead, and chin.
Excellent for hot, humid weather — You can use blotting paper in summer or while on vacation to blot away excess sweat and oil while keeping your makeup intact.
Helps set makeup — Use blotting paper before you put on your setting powder and makeup to ensure your makeup is going on clean, dry skin.
Affordable and convenient — Blotting paper is small and cost-effective. You can keep them in your purse, car, desk drawer, or even in your pocket for easy access.
Great for men — Blotting paper is not just made for women that use makeup; they are excellent for men who would also like to utilize the benefits of eliminating unwanted shine throughout the day.
How to Use Blotting Paper
Blotting paper is straightforward and easy to use, and now that you understand what they are, let's cover how exactly to use them:
Grab one piece of blotting paper out of its package
After this, gently dab the absorbent paper onto your skin
Pay attention to the oily spots by leaving them for a few seconds before lifting. Just remember to dab, not rub the papers onto your skin
Finally, use as often as you see any shine on your face, neck, or décolleté for an instant mattifying effect
What to Consider When Choosing a Blotting Paper
Not all blotting paper is made the same, so it is essential to consider the best products for your skincare routine and not irritate potentially sensitive skin. We've compiled some key factors to consider when choosing the right blotting papers.
Does it contain oil-fighting ingredients?
Blotting paper was initially made with standard thin tissue paper. Fortunately, there are now many types of materials they can be made from, along with additional ingredients that can fight against excess oil.

Blotting paper made from willow bark, bamboo charcoal, or abaca tree fibers can help absorb even more oil without having to use additional sheets of paper. If you are acne-prone or have a naturally oily complexion, look for blotting paper made with cotton, rice, or flaxseed.
Does the paper contain powder?
Some papers contain powders which can create a mattifying effect. These are perfect for people with oil-prone skin, those who wear extra make-up, or for big nights out when you need a quick refresher.
With the effects of the powder, you can say goodbye to face shine and washed-out makeup, even with a night of dancing!
Are they made out of sustainable materials?
Avoid blotting papers that are made from plastic or vinyl, which can hurt sensitive ecosystems. Instead, look for blotting papers made with sustainable, cruelty-free, biodegradable materials like bamboo. Other alternatives to bamboo are wood pulp, hemp pulp, also known as abaca fibers.

Who says you can't look good and help protect the environment at the same time?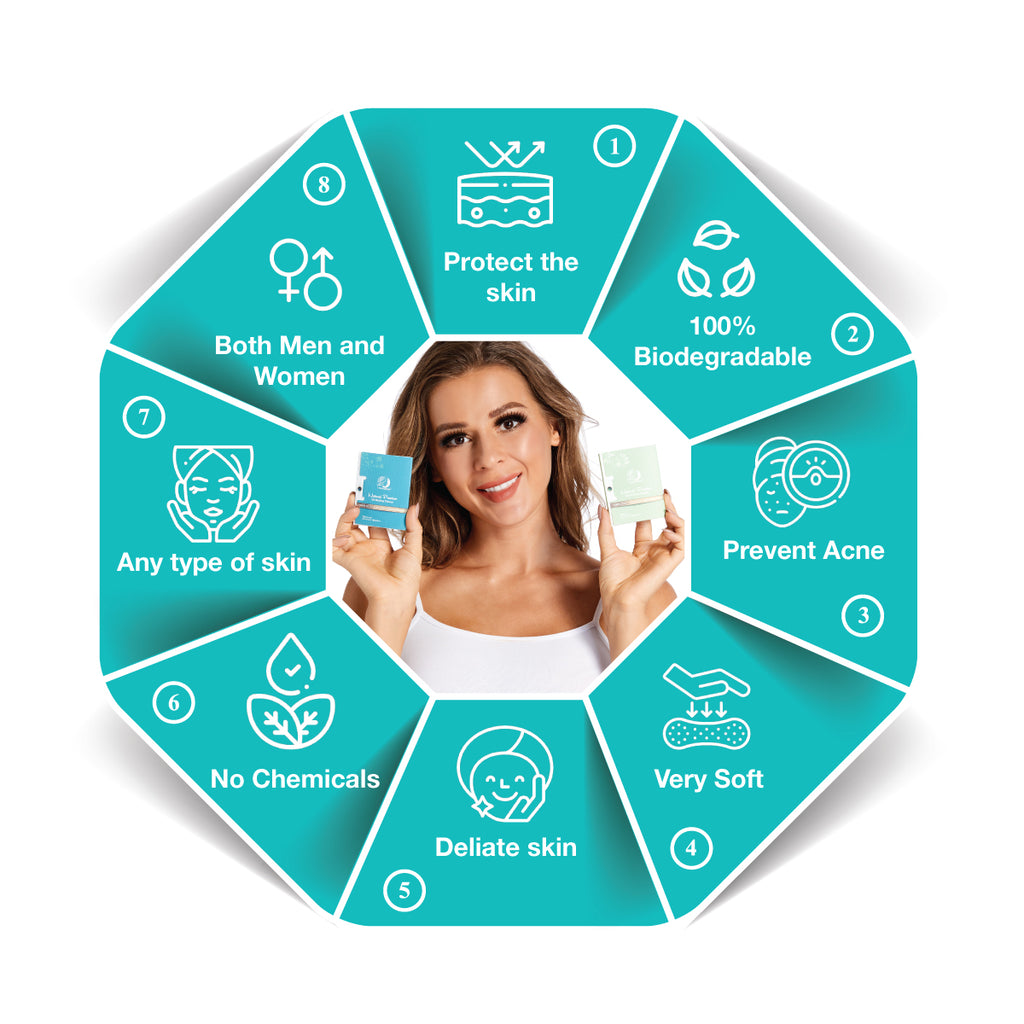 Do you want scented or unscented blotting papers?
Some blotting papers can be scented with essential oils or other fragrances. However, there are also unscented makeup blotting papers. Most people prefer to use unscented blotting papers to avoid any irritations that they may cause, but some essential oils can provide a calming effect.

Take lavender, chamomile, green tea, or hemp, which can have a calming effect on your skin. If you are already sensitive to fragrances, then stick with the unscented versions. For those who like to have a scent, test out some fragranced kinds like green tea blotting papers that can add an extra refreshing element.

When looking for blotting papers, keep in mind your own skin type and determine what ingredients may irritate your skin while also considering the environment.
Blotting Paper Frequently Asked Questions
While we've covered the basics of what blotting papers are, along with their benefits and how to use them, you may still have a few more unanswered questions. Here are the most common questions we come across:
Are blotting papers good for your skin?
Blotting papers aren't bad for your skin, but they won't solve the underlying issue of why your skin may be oily. If you have excessively oily skin, don't rely on blotting papers; instead, look for the root of the issue and find other complementary solutions like face masks, diet, toners, and proper face washing cleanser.

Consult with your dermatologist, makeup artist, or skin care specialist to determine why your skin may be excessively oily.
Does blotting paper clog pores?
Blotting paper won't clog your pores as it is lifting oil from your face. The only time they might do so is if your blotting sheet is not clean, which can add dirt and bacteria to your face and cause breakouts. Ensure you always keep your blotting paper packaging intact and blot only with clean hands.
How often should I use blotting paper?
Use blotting paper as much as you feel necessary. For example, if you start to see new areas of shine on your face, feel free to use a fresh blotting sheet to remove the newly accumulated oil and sweat.
Do blotting sheets remove sunscreen?
Blotting sheets can remove some of the effects of your sunscreen, so it is important to get a sunscreen type that doesn't make your skin excessively oily. Alternatively, you can use a powder on top of your sunscreen, such as mineral powder foundation, which can keep your sunscreen in place while

If you do want to use blotting papers when using sunscreen, just ensure to wait at least 20 minutes after application before blotting so the sunscreen can fully absorb into the skin.
Can blotting paper cause acne?
Most people will not have an adverse reaction to using blotting paper. However, for some, dabbing the skin with blotting papers can encourage further acne.
This occurs when the paper removes the protective layer of oil that your skin has created; once you remove that layer, it has to replace it with more oil.
If you already have existing acne, it is crucial to speak with your dermatologist or skin care professional to ensure you have an acne care plan in place and are not solely relying on blotting papers.

Blotting paper can still be beneficial to assist those with acne to help remove that midday shine. However, the key takeaway is to remember to take other actions such as regular face washing, using oil-free moisturizer, and potentially medications like Accutane if necessary.
What is the difference between blotting paper vs. tissue?
Blotting paper is made with skincare in mind; while you can use regular tissues in a pinch, they are not specifically made to absorb oil. As a result, many people find that the shine comes right back when using tissues and can wipe off a significant amount of makeup, ruining your overall look.
Stick with blotting paper to ensure you are getting the most effective, long-lasting results.
What else can I use blotting paper for?
Blotting paper has other uses than just on your face. Check out these three different ways to use blotting sheets:
Hair degreaser — When you don't have access to dry shampoo, use your blotting paper on your scalp to dab away excess oils. While it won't be an exact stand-in, it can help keep your hair fresh until you can get to a shower or your dry shampoo.
Makeup setter — Blotting paper can work wonders for setting your makeup and help it stay on longer. After applying any sort of creamy makeup (foundation, lipstick, creamy blush, etc.), dab the area with a blotting sheet. It will help absorb extra oils that can quickly wear away makeup while leaving the pigment.
Makeup de-smudger — You can use blotting papers to wipe away makeup smudges. Use the edge of the blotting paper to wipe away makeup such as smudged lipstick, mascara, or eyeliner.Phone cleaner — We all know how easy and annoying it can be when oil, grease, and makeup accumulate on your phone. You can use blotting papers as a quick and easy removal tool.
Phone cleaner — We all know how easy and annoying it can be when oil, grease, and makeup accumulate on your phone. You can use blotting papers as a quick and easy removal tool.
Where to buy blotting paper?
You can buy packs of blotting paper in most drug stores or your local beauty shop, with many different kinds available. However, why not save yourself the trip and purchase your blotting paper online?

Pleasing Care has a selection of blotting paper that are 100% biodegradable, made with natural ingredients, and cost-effective!
What Is the Best Blotting Paper?
With so many options available, we recommend that the best blotting paper is those that work the best with your skin. Everyone's skin is different, so what works for one person may not work for another.

Our recommendation is to look for a product that is biodegradable, chemical-free, made of natural ingredients, and delicate on the skin.
Summary
Now that you're equipped with the best tools and information to find the right blotting sheets for your skin, it is time to give them a try! With their capabilities, you'll be wondering why you haven't packed them into your purse, pocket, car, office, or carry-on bags earlier!

Pleasing Care is here to help with all your skincare questions and needs. Discover more information about skincare through our blog with helpful information from oily skincare to makeup tricks.