The Guide for Microfiber Makeup Removal Cloth
Makeup Remover Towels - Reusable Microfiber Towels to Remove Makeup with Just Water
This product is a makeup removing cloth that removes makeup, dirt, and oil in just seconds. The cloth is made from a special blend of natural fibers which are soft on the skin and do not contain any harsh chemicals, which makes this product safe and non-irritating for the skin.

JUST ADD WATER, WIPE AWAY MAKEUP, DIRT, AND OIL IN JUST SECONDS, YOUR SKIN CLEAR, SOFT, AND SMOOTH.: Remove your makeup, dirt, and oil with just water. This cloth is specially designed to be gentle on your skin and it gets rid of all your makeup in just seconds. It is also super easy to use and will leave your skin feeling clean and soft. You woke up in the morning, look at your face in the mirror, and see your makeup is all over your face. No one has time to take off their makeup, and then wash it off.
ALL-NATURAL, NO CHEMICALS, AND MACHINE WASHABLE. ALL SKIN TYPES COVER SENSITIVE SKIN, DELICATE EYE AREA: delicate eye area. PleasingCare Makeup Remove Cloth We all want to look our best, but we want to do it in a way that is gentle and healthy.
FACIAL MAKEUP REMOVER, EYE MAKEUP REMOVER, FOUNDATION SIMPLE MAKEUP REMOVER: no perfumes, no chemicals, and no alcohol. PleasingCare is the perfect makeup remover for all your needs. This long-lasting cloth is gentle, yet effective. It is made of high-quality material to ensure a long service.
EVERYTHING COMES CLEAN, HAS NO STAINS, AND REMAINS SOFT, PROMOTES HEALTHY SKIN.: with no makeup on. A makeup wipe made out of the most delicate fabric ever. Not only does it clean your makeup but it also cleans your skin by removing all makeup residue left on the skin.
WORKS FOR EYE SHADOW, MASCARA, LIPSTICK, LINERS, USE UP TO 1000 TIMES: makeup artist. PleasureCare

makeup remover face cloth

is very durable, works for Eye shadow, Mascara, Lipstick, Liners, lasts up to 1000 times.
Microfiber Makeup Remover Cloth - Which to buy?
Ask any woman, what's the most challenging part of a makeup routine, and the answer would be the same every time: removing it. Whether it's just a blush on your cheeks or full-on makeup,
if you don't remove it correctly, the elements in it will affect your skin in the long run. This is why the cosmetic industry spends millions in research every year to develop skin-friendly products and products that ease the removal process. One such innovation doing the rounds in the cosmetic industry is microfiber makeup removal cloth. Here is a guide about the significance of removing makeup, especially with a microfiber makeup removal cloth.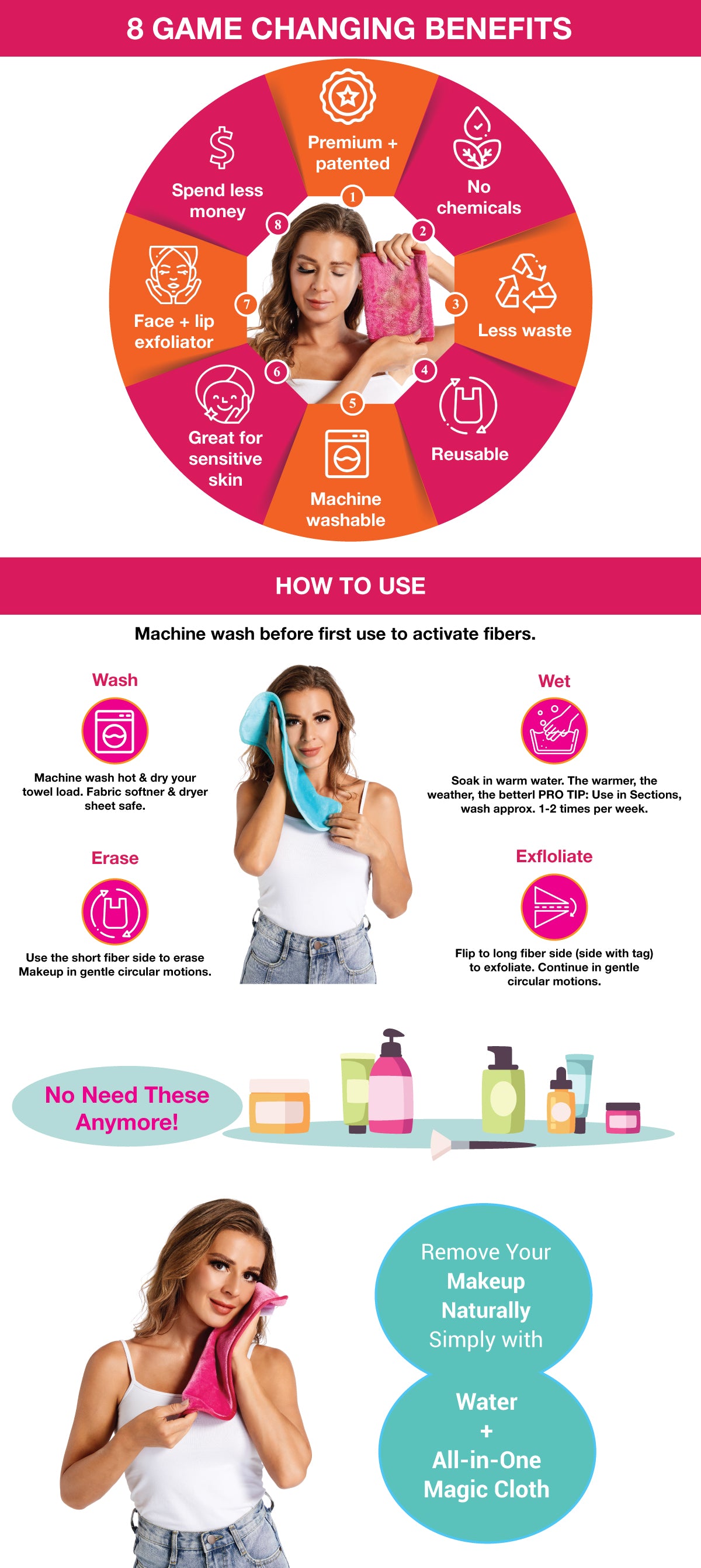 Why is it Crucial to Remove Makeup Properly?
No matter how much time it takes, you should remove your makeup correctly, especially before going to bed. Makeup is a highly desirable accessory for women; hence millions are spent on it. However, to avoid the hassle of removing it, women often neglect the guidelines and warnings and end up with acne, rashes, irritations, and other skin infections. Therefore, removing makeup at night before going to bed should be a priority for all women; otherwise, your skin will deteriorate over time. Following are some reasons emphasizing the importance of removing makeup thoroughly.
1. Aging Process: The skin replenishes and refreshes overnight, and it's only possible if the pores are open and not clogged by layers of makeup. Since makeup adds layers to skin, they block the airways of the pores and the skin does not get the air, and the moisturizer is needed to stay fresh. As a result, it speeds up the aging process and makes your skin look dull and wrinkly. That's why it is crucial to remove makeup at night.
2. Skin Infections: As discussed above, makeup blocks the pore on your skin, preventing airflow, and making it dry. The dryness of the skin is responsible for breakouts, pimples, blackheads, rashes, and other irritations, which might leave scars on your skin. Therefore, take your time when removing your makeup to avoid these infections.
3. Blood Circulation: Removing makeup is all about gently massaging your face. Besides the airflow, your skin needs a good massage for better blood circulation. The to and fro gentle movement of your hands on the face allows for a better flow of blood which keeps the skin tight and prevents wrinkling.
4. Freshness: Washing your makeup opens up the blocked pores and allows blood to circulate more efficiently. However, if you don't wash away the makeup, the dust and other impurities might make your skin a bit dull, which in the long-run has the potential to speed up the aging process and cause some serious skin infections.
5. Glow: A good skin routine allows it to not only glow but slows down its aging. Most women are pretty conscious about the glow on their skin, so if they don't make a concentrated effort to remove the makeup, their skin will be fractured and dull.
As visible by the above points removing your makeup, especially at night, is a must if you want to take proper care of your skin and look younger.
Microfiber Makeup Remover Cloth – Environment Friendly
Microfiber makeup cloth are known for their soft texture and reusability. They are perhaps the only makeup removers suitable for all skin types. Many women complain of skin irritation after removing their makeup; however, this is not the case with microfiber cloths. They don't need any chemicals or additional cleansers to do the job; instead, just soaking in warm water will do the job. The quality also makes them acceptable to environmentalists. A single microfiber cloth can be used more than 100 times, and even then, it can be re-used for other cleaning purposes. They don't need chemicals, which is a massive plus as they can't negatively affect the ozone layer or the environment. Due to their reusability, they don't contribute to pollution as well.
Microfiber makeup cloth is primarily made of recycled plastic. Although some manufacturers use virgin materials to make them, most of the cosmetic industry uses recycling to make them. They are made of polyester and nylon fibers known for their longevity and reusability. Microfiber cloths are often advertised as the only makeup removers that can be used more than 100 times. Due to this factor, they are hardly wasted, making them one of the only few beauty products that are environmentally friendly.
What Exactly Is a Microfiber Makeup Remover Cloth?
Microfiber makeup remover cloth is a soft cloth made of polyester and nylon. The microfiber texture is 1/1000th the diameter of a human hair and around one-third the diameter of cotton fiber. The polyester-nylon combination and the texture make the microfiber cloth highly beneficial. Another positive of a microfiber cloth is that it's made out of recycled plastic. Most microfibers are made this way; however, some high-quality ones are made of raw materials.
History Of Microfiber Cloth – Microfiber Explained
The concept of microfiber cloth has been around since the late 1950s. Initially, they were used for limited purposes. However, Dr. Miyoshi Okamoto, a scientist from Japan, experimented with producing ultra-fine fibers in the 1960s. He and his team are the reason why microfiber cloths took off. The first publically sold microfiber cloths were in the 1990s, and since then, the world has come to appreciate the benefits of this cloth type.

Microfiber cloths are exclusively used for cleaning and other such purposes. Due to their effectiveness in removing dirt and dust without damaging the surface, they are a popular choice among people. The cosmetic industry took a gamble on this technology and introduced microfiber cloth for removing makeup.
How does the Microfiber M
ake Up Wash Cloth

Work?

Now, you must be wondering that how does the microfiber make up wash cloth work? Well, the answer is hidden in its composition. Microfiber cloth is made of numerous threads woven on a small surface area. These threads allow it to produce friction, which helps remove the makeup quickly. Besides, these small clothes will get under any dust particle or other impurities and remove them altogether. Microfiber cloth is why women prefer it over a washcloth, as it saves time and protects the skin.

You need to soak the cloth in warm water and gently rub it on your face. A couple of gentle swipes will remove all your makeup. Now just wash your face, and that's it; all your makeup is removed. Next, clean the microfiber cloth with warm water and dry it for another use. This simplicity is what's behind the success of microfiber makeup towel.

Microfiber makeup remover cloths are appreciated for their softness and their positive effects on the skin. Removing makeup takes time and effort; this is why most women neglect the proper skincare regime. However, removing makeup with a microfiber cloth doesn't take much time or effort. As discussed above, warm water and a few circular motions will thoroughly remove the makeup. Since no chemicals are needed, a microfiber cloth is the only friend it needs. Also, when you massage your face with it, the soft fabric feels soothing for the skin and allows for better blood circulation.
What Kind of Other Makeup Removers Can You Use?
If you step into a beauty store, you will be spoiled for choices when it comes to makeup removers. There are several different kinds of makeup removers, and you can choose one according to your skin type. However, most makeup removers are made of different chemicals, making them a risk for your skin. In addition, not all skin types respond well to certain chemicals. There have been cases where women developed irritable skin after using branded makeup removers. The chemicals in makeup remover are not always harmful, but continuous use of these products will damage your skin.
Moreover, you will need particular products to remove special or waterproof makeup, which is a waste of time and money. For example, micellar water is not good at removing lipsticks and mascaras; you will need another cleanser to remove it. Combining two makeup removers is risky as different chemicals will negatively affect your skin.
Types of Makeup Removers
The cosmetics industry is worth billions of dollars; this is why there are thousands of products you can use to remove makeup. Each method has advantages and disadvantages, from the simplest to a complete routine. Following are the most popular types of makeup removers.
Makeup remover wipes
Micellar water
Cleansing foams
Cream and milky cleanser
Cleansing balms
Oil cleansers
Bi-phasic makeup removers
Microfiber Cloth
Learn more about each type of makeup remover and the pros and cons of it in the following discussion.
Makeup Remover Wipes
These wipes are made of polyester, wood pulp, rayon fibers, and cotton. They are soft and come in two variations; one is soaked in cleansing liquid, and the other in makeup removers. As you can judge, the cleansing ones are used for cleaning your face after removing the makeup, and the other ones are used just for removing the makeup. Since they don't need any water, you can use them as it is. Just open the packing and gently rub it on your face; after a few minutes, it altogether removes all the makeup without much effort.

Makeup remover wipes are suitable for both dry and oily skin; however, they might cause some rashes on sensitive skin. They can remove all types of makeup from mascara to a heavy foundation; nothing is too complicated for these wipes. Along with skin irritation, another downside of using the wipes is that your face feels sticky afterward. To avoid stickiness, wash your face after usage.
The price for a single wipe is around $0.18; however, a pack of 25 wipes will cost you around $6, and if you buy a twin pack from amazon, it will cost around $8.93.
Micellar Water
Micellar water is a mixture of cleansing water and micelles oil molecules whose particles are suspended when a water-based cleanser is introduced. These oil particles then help absorb oil and break dust particles from your skin. The best way to use micellar water is to pour some on a reusable cotton pad and apply it to your face. Afterward, use a cleanser if necessary, ensuring that even the minutest dust particle is removed.
The best part about using micellar water is it doesn't require any washing afterward. If you use a cleanser after applying micellar water, you will only wash your face. Micellar water is best for dry and sensitive skins because it hydrates the skin cell and keeps the pore unclogged. The only side effect of using micellar water is its ineffectiveness when removing heavy or full-coverage makeup.

A 125ml bottle of micellar water is between $8 and $15. The difference in cost depends on the quality and the manufacturing brand.
Cleansing Foams
Cleansing foams are another type of makeup remover that is pretty easy to use. They are known to remove all the dust particles from your skin and keep it hydrated. You just have to apply it to your face and then massage it using water. The cleanser will form a foam on your face, keep rubbing it gently for a few minutes and then wash your face with water.

Cleansing foams are made of essential oils that keep the skin fresh and prevent any bacterial growth. They can be used on all skin types without hesitation but are best for dry skin. The only disadvantage of cleansing foam is that it cannot remove eye makeup; you will have to buy an eye makeup remover separately according to your skin type.

Depending on the manufacturer, a cleansing foam costs anywhere between $10 and $30; however, since cleansing foams can be used with all skin types, it's worth the money and effort.
Cream and Milky Cleansers
These are the most common types of cleansers. They are a mixture of moisturizers and essential oils which help keep the skin fresh and glowing. In addition, they are known for removing heavy makeup and mascara with ease. Pour some on your palm and apply to your skin. Keep massaging for a while, and then rinse with water.

Cream and milky cleansers are for all skin types, but they are especially beneficial for dry skin. The moisturizer and oil keep the skin hydrated and prevent any breakage. However, many people are put off by it due to the effort required to use this cleanser. First, you have to massage your face for a while and then wash it with water. Secondly, these cream and milky cleansers are often used as secondary cleansers, taking up a fair amount of your time.

A 100ml cleansing bottle is around $10 to $30, depending on the manufacturer.
Cleansing Balms
Cleansing balms are good at removing dust particles and other makeup residues. They keep the skin healthy, prevent breakouts, acne, premature aging, and pimples. Since they are made of oils, they also keep your skin moisturized. You have to massage your face with it until it's absorbed in the skin; afterward, just rinse your face with water. To get the best out of cleansing balm, use it in a double cleanse routine as the first product. Moreover, cleansing balms can remove all types of makeup.

Since it contains oil, it is best for dry skin. However, the cleansing balm is suitable for all skin types. Please remember, if you want to use a cleansing balm on oily skin, then be sure to use just a little bit. Instead, avoid using it altogether if you have extremely oily or acne-prone skin.

The cost of a cleansing balm is between $10 to $60, depending on the manufacturer and the quantity.
Oil Cleansers
Oil cleansers, as the name suggests, are made of essential oils. They contain antioxidants and anti-aging ingredients to keep your skin fresh and prevent rapid aging. They also keep the PH level of your skin in check and remove all dust particles from your skin. They are also easy to use, just pour some on the palm of your hand and massage your face with it. After a couple of minutes, rinse your face with water.

Oil-based cleansers are suitable for all skin types. However, women with cracked or excessively oily skin should avoid using them.
Oil-based cleansers will cost around $10 to $40, depending on the manufacturer and the volume.
Bi-Phasic Cleansers
Bi-phasic cleansers give you the benefit of two cleansers in one. It is a mixture of liquid cleansers and oily ones. The oily cleanser dissolves the makeup while the liquid cleanser washes away all the dust particles and other impurities. They are beneficial when removing waterproof or heavy makeup. Just apply some on your face, rub gently for a couple of seconds, and then rinse with water.

Bi-phasic cleansers are suitable for all skin types, even sensitive ones. However, a note of caution if you have broken skin, try avoiding bi-phasic cleansers. The oil particles will get stuck in those places and, if not rinsed thoroughly, might form a bacterial infection.

A good bi-phasic cleanser will cost you around $10 to $30.
Micro-Fiber Cloth
Microfiber cloths are made of polyester and nylon and are extremely good at removing all types of makeup. They are easy to use and can be used multiple times. Just soak them in warm water and rub your face gently with it. After a couple of swipes, your makeup will be removed. They don't need any chemicals or other cleansers, just hot water, and that's it. After using it, wash it thoroughly and let it dry for future use.

Microfiber cloth is soft and therefore suitable for all skin types. However, you need to be extra gentle when using it on sensitive skin. Since they are chemical-free, there is not much harm in using them. However, if you don't wash with after using them only then, it will affect your skin.

The cost of a 100 piece microfiber pack on alibaba.com is around $0.20 to $2.
Why Should You Use Microfiber Makeup Remover Cloth?
There are several reasons why you should use a microfiber cloth remover. Perhaps the best reason you should opt for a microfiber cloth is its positive effect on the environment. However, a couple of more reasons make it a no-brainer.
Microfiber cloth is used multiple times with the same effect. Microfiber makeup removers can be washed up to 100 times and re-used. Unlike other removers, it's long-lasting and doesn't burn a hole in your pocket.
Due to its soft texture, you don't have to rub it harshly on your face to remove makeup. This property also makes it a hit for women with broken skin.
Its primary function is to remove dust and other impurities from your skin. The dust sticks to the cloth, which is why microfiber is so effective at cleaning.
It helps maintain the skin's pH level and makes it smooth. It also helps in maintaining the tone of your skin.
There are a hundred more reasons to use a microfiber cloth, but the ones mentioned above cover all the necessary bases of your skincare.
Advantages and Disadvantages of Microfiber Makeup Remover Cloth
Like all other things, there are a couple of advantages and disadvantages of using a microfiber makeup towel.
Advantages:
The advantages of microfiber cloth far outweigh the disadvantages. Following are some of them.
Expert Cleaning: Microfiber cloths are made of 200,000 fibers per inch of fabric, absorbing more than seven times their weight. As a result, even the most stubborn makeup comes off after a couple of gentle swipes.
Environmental Friendly: This cloth is mainly made of recycled plastic which contains polyester. Only a couple of manufacturers make them from raw materials. Since it is made of recycled material, the effect on the environment is undoubtedly positive.
Cost Savings: A good microfiber cloth can be used more than 100 times. You just have to wash them properly after every use for their long life. Secondly, you don't need any additional cleansers, which help you save extra cash.
4. Improved Safety: Microfiber makeup remover cloths are suitable for all skin types. There is no danger to any sensitive, acne-prone, or broken skin.
5. Better Health: Microfiber removers have been appreciated for the way they maintain healthy skin. You just use warm water, so no additional chemicals can affect your skin. Moreover, they remove even the smallest dust particles from your skin, preventing future discomforts.
Disadvantages:
Despite having numerous advantages, there are a couple of demerits of using a microfiber cloth.
Washing: For a microfiber cloth to serve its purpose, it must be washed thoroughly and dried every time. If you use a dirty one, then skin infections are multiplied.
Protection: Microfiber cloths must be placed in a dry and closed space. Dust particles are easily attached to the surface, and damp conditions encourage bacterial cloth. Keeping them in a controlled environment is the key.
Disposal: They need to be disposed of properly after completing their life. If they are disposed of on open areas or streams, it will damage the environment.
Best Way to Use Microfiber M
akeup Remover Face Cloth
If you want to use the microfiber cloth efficiently and increase its life, use it according to the five steps mentioned below.
Step 1: Before using it, wash the cloth with warm water. Avoid using cold water because it might affect the texture of the microfiber cloth.
Step 2: Start by removing the problematic makeup. Mascara and lipstick should be removed first as they may smudge your face.
Step 3: Now, remove makeup from your cheeks, chin, and forehead. Remember to use soft circular motions to prevent skin irritation.
Step 4: After removing the makeup, dip it in warm water and rub it all over your face to remove any remaining makeup residue. Preferably, wash your face afterward.
Step 5: Thoroughly clean the cloth; you can do it by hand or in a washing machine. Once done, hang it till it dries and stores it in a dry and neat place.
These five easy steps are all it takes to remove all types of makeup and guarantee a long life for your microfiber makeup remover cloth.
Is Microfiber Makeup Remover Worth the Hype?
There is a reason why microfibers are an instant hit with the ladies. Their durability and ease of use are admired by anyone who uses them. However, there is a case to be made on why you should switch to reusable makeup removers when considering its benefits. The material used alone is enough to convince anyone of its importance. The recycled plastic used in its manufacturing is the biggest reason to go for a microfiber cloth. It's environmentally friendly and doesn't adversely affect your budget.
Microfiber Durability - Best Way to Care for Your Makeup Removal Cloth
Microfiber cloths are known for their long life and durability. You need to wash them with warm water after using them and dry them out.
To avoid breaking fiber or bacteria formation, just store in a dry and clean place. The only care these soft makeup removers need is this. Avoid storing them in damp places as the chances of bacterial growth are multiplied significantly.
Why Microfiber Is the Best Material for Makeup Removal?
Microfiber cloths don't need any chemicals or cleaning agents, just warm water and a couple of gentle circular motions, and that's it. In addition, they are compatible with all skin types, even the sensitive ones. These two reasons alone should convince any woman to switch to microfiber makeup remover cloth. It would be best if you switched to this special makeup remover as it is not only skin-friendly but also doesn't affect your pockets too much. Besides, removing makeup with a microfiber cloth saves you time which is the biggest reason why you should switch to them.
Frequently Asked Questions :
1. Will any microfiber cloth remove makeup?
Only a microfiber makeup cloth will remove the makeup. Others will do the job, but it might affect your skin negatively.
2. Can I use a microfiber cloth to remove makeup?
Yes, all microfiber makeup removing cloths remove makeup with ease. So, whether it's mascara or a dark shade of lipstick, it can remove it all easily.
3. Can you use a microfiber cloth to remove makeup?
Yes, microfiber cloth is good at removing all types of makeup on different skin types. They are especially good for sensitive skins, as they don't produce any rashes or irritations.
4. How do the microfiber makeup remover cloths work?
Dip in warm water and start by removing makeup from your eyes and lips using soft circular motions. After using it, wash and dry it for future use.
5. How to use a microfiber cloth for removing face makeup?
Soak it in warm water, and then start rubbing it on your face. Remove mascara and lipstick first, and after dipping it in the water again, clean the rest of your face.
6. How do you clean microfiber makeup cloths?
After using it, wash it thoroughly with warm water and hang to dry it. After doing so, store it on a dry and neat surface.