About This magic makeup remove the cloth
Makeup Remover Towels - Reusable Microfiber Towels to Remove Makeup with Just Water
This product is a makeup-removing cloth that removes makeup, dirt, and oil in just seconds.  The cloth is made from a special blend of natural fibers which are soft on the skin and do not contain any harsh chemicals, which makes this product safe and non-irritating for the skin.
JUST ADD WATER, WIPE AWAY MAKEUP, DIRT, AND OIL IN JUST SECONDS, YOUR SKIN CLEAR, SOFT, AND SMOOTH.:   Remove your makeup, dirt, and oil with just water.  This cloth is specially designed to be gentle on your skin and it gets rid of all your makeup in just seconds.  It is also super easy to use and will leave your skin feeling clean and soft.  You woke up in the morning, look at your face in the mirror, and see your makeup is all over your face.   No one has time to take off their makeup, and then wash it off.
ALL-NATURAL, NO CHEMICALS, AND MACHINE WASHABLE. ALL SKIN TYPES COVER SENSITIVE SKIN, DELICATE EYE AREA:  delicate eye area.   PleasingCare Makeup Remove Cloth  We all want to look our best, but we want to do it in a way that is gentle and healthy.
FACIAL MAKEUP REMOVER, EYE MAKEUP REMOVER, FOUNDATION SIMPLE MAKEUP REMOVER:  no perfumes, no chemicals, and no alcohol.  PleasingCare is the perfect makeup remover for all your needs.  This long-lasting cloth is gentle, yet effective.  It is made of high-quality material to ensure a long service.
EVERYTHING COMES CLEAN, HAS NO STAINS, AND REMAINS SOFT, PROMOTES HEALTHY SKIN.:  with no makeup on.  A makeup wipe made out of the most delicate fabric ever.  Not only does it clean your makeup but it also cleans your skin by removing all makeup residue left on the skin.
WORKS FOR EYE SHADOW, MASCARA, LIPSTICK, LINERS, USE UP TO 1000 TIMES:  makeup artist.   PleasureCare Makeup Remover Cloth is very durable, works for Eye shadow, Mascara, Lipstick, Liners, lasts up to 1000 times.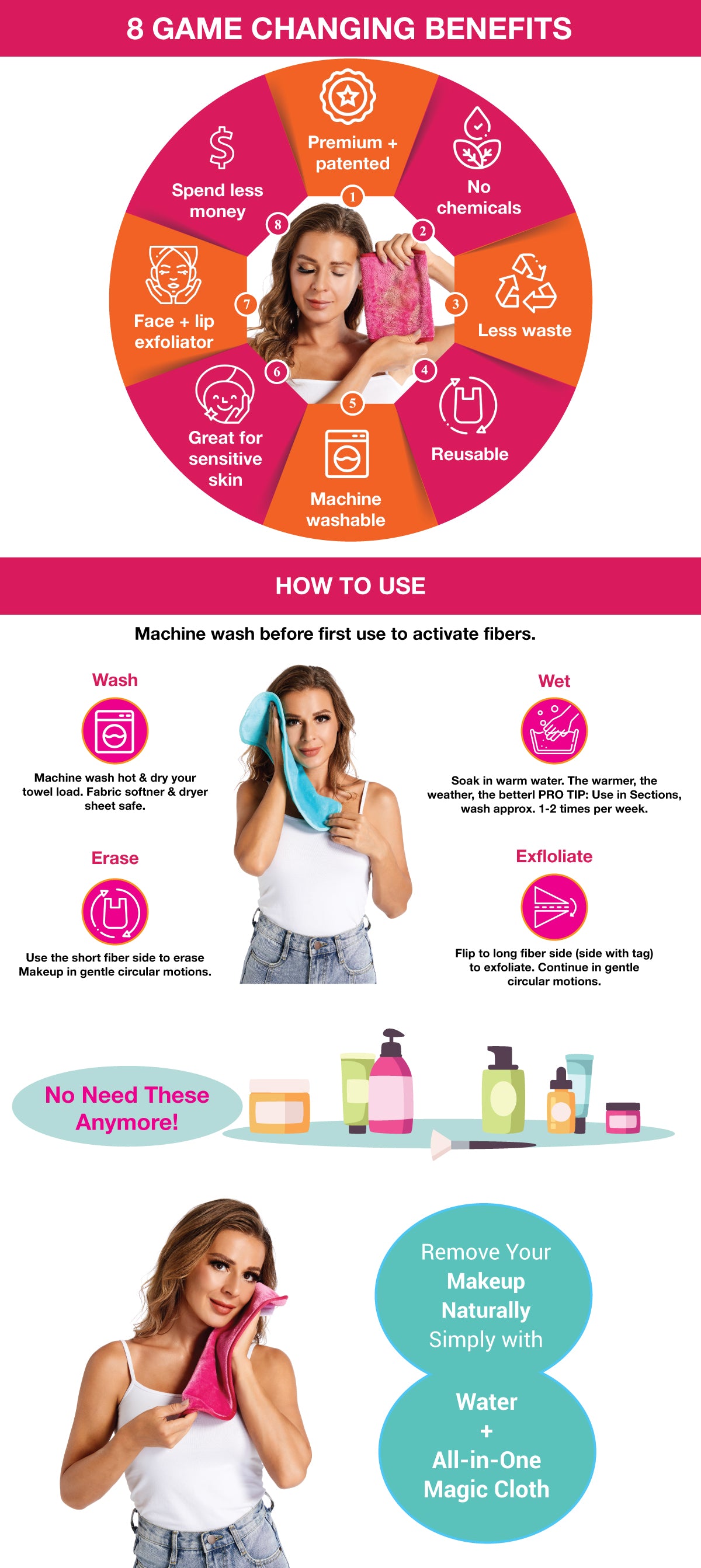 Magic Makeup Remover Cloths for Completely Removing Makeup
Instantly and Gently Remove Makeup with Only Water
- Are you seeking a more natural way to remove your make-up each day?
- Are you spending large amounts on makeup remover towelettes?
- Does your current method of makeup removal do more harm than good to your skin?
- Would you like a make-up removal method that's safer for you AND the environment?
Then Makeup Remover Magic Cloths are the answer!
- Eliminate using oils and unnatural chemicals and achieve 100% makeup removal.
- Literally, save hundreds every year by no longer having to buy expensive makeup remover towelettes that harm your skin.
- Have skin that's naturally exfoliated with a plush cloth that feels good and gets the job done.
- Create less waste by having a stain-free cloth you can reuse hundreds of times with a quick toss in the washing machine.
Save money, help the environment and have better skin in the process with Makeup Remover Magic Cloths. Thanks to our Money Back Guarantee you've got nothing to lose and everything to gain.
Directions
1. Using warm water wet the Makeup Remover cloth making sure the cloth soaks up the water.
In a circular motion remove makeup using the front side of the cloth.

Flip cloth over and continue until all makeup is removed.

Machine wash warm, tumble dry and DO NOT BLEACH.
We Cannot Guarantee this Special Pricing, So Be Sure to Click Buy Now!
You can also buy more skincare-related products.
What are the Benefits of Facials on Oily Skin?
What are your tips to apply makeup-for teens?
What can I use to prevent sweating when wearing makeup?
Why does My Skin become Oily after I Take a Shower?
Related SkinCare Tips Blog Posts:
How to Take Makeup Off Without Makeup Remover? Makeup Wipe Replacement
Top Five Best tips For Your Skin,What are some of the best skincare tips?
How do I Get Rid of Oily Skin? Why Blotting Paper Makes Sense
Oil Blotting Paper _Makeup Remover Cloth Mak
The incredible benefits of a makeup remover cloth and why you should use one
What are some of the best skincare tips? Best skin care for Oil skin