For those of you with oily skin, now's the perfect time to embrace the benefits of oil blotting paper.
If at the end of the day, you usually reach for some tissue paper to wipe your makeup away, we believe now is the time to reconsider your routine. Because there is a better solution out there, and it is a game changer if you have oily skin. Oil blotting paper, handy, absorbent sheets that relieve your skin from dirt, without irritating your skin. These pocket sized papers are perfect for those warmer days, when perspiration comes, and natural oils leave your face looking shiny.
But you may be asking, isn't oil blotting paper the same as tissue paper? Surely, I'll receive the same benefits by simply using paper from the bathroom, or wet wipes? And that is why today, we want to share the main differences blotting paper has over regular tissue paper.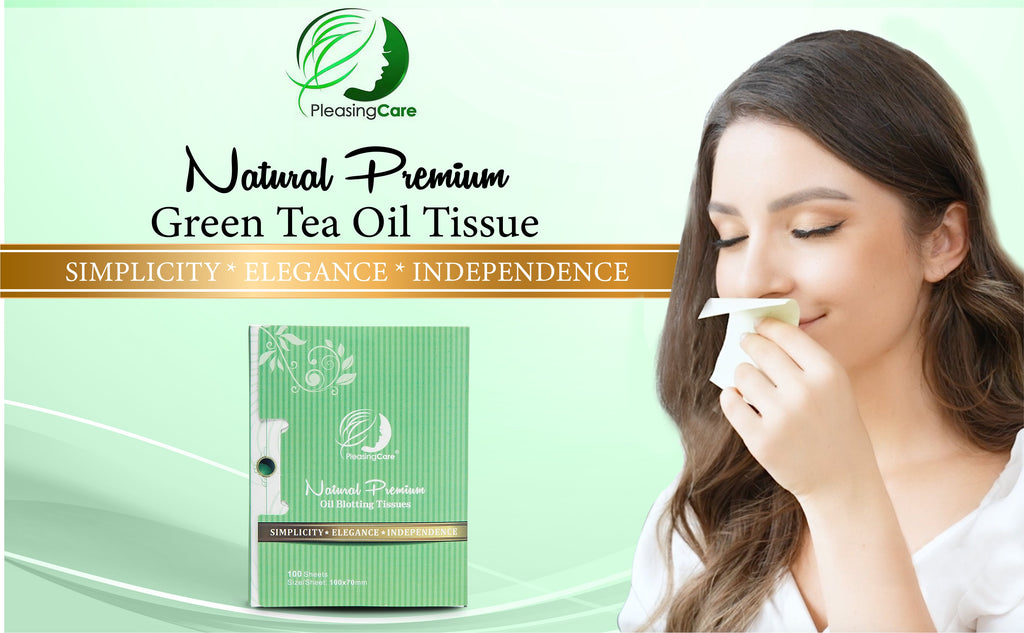 Oil Blotting Paper is 100% Natural
Unlike toilet tissue or wet wipes, oil blotting papers are crafted from extra-absorbent natural materials. These can include ingredients such as rice, cotton, and even flax seed. At PleasingCare, we prefer to make our oil blotting paper with 100% natural linens with organic Bamboo charcoal, as we have found this material offers the softest and gentlest feeling for your skin. When choosing to use a product like ours, you cause less harm to our environment, while also being kinder to your skin.
A Savior For Sufferers of Oily Skin
If you suffer from shiny skin during the summer months, it's important to use a product that doesn't just smear the oil, it absorbs it. Unlike tissue paper, oil blotting papers are specifically designed to soak up oil, without ruining your carefully applied makeup. Perfect for when you're out and about, and need a quick fix to bring back your flawless matte look.
Set Your Makeup Before You Walk Out the Door
We've all applied our makeup during a summer's morning rush, put on some sunscreen, and then raced out the door. Only to find, when we look in the mirror, that our face is a mess! Our oily makeup hasn't set in the heat, and our sunscreen has bled into the foundation. This is when oil blotting papers can save the day. A simple pat all over your face with blotting paper will absorb any excess oil found in your makeup, or sunscreen, and set your look for the day. And, as blotting papers come in a handy pocket-size, you can repeat the process whenever necessary while you're out the house.
Help Your Lipstick to Last Longer
Even the best lipstick can smear, or fade during a busy day. Prevent this unwanted finish to your makeup, by blotting your favorite lipstick while applying. By blotting in between coats of lipstick, you will create a much more intense look, as the paper will absorb all the unwanted oil present, leaving only the vibrant pigment. Plus, you'll create that on-trend matte finish, and a look that will last much longer.
If you would like to experience the benefits of oil blotting paper for yourself, we urge you to consider our Natural Bamboo Charcoal sheets. They are the top-rated, number 1 Oil Blotting Paper on Amazon, and are available to buy online now via our website. We're so confident that you'll love our product, we even offer a 30-day money-back guarantee. So if you're not 100% satisfied, return the item for a full refund. And before you buy, please feel free to have a browse through some comments and photos from our happy customers via our reviews page.
Related PleasingCare Posts:
What are the most useful makeup tips and tricks?|for oily skin
How to Take Makeup Off Without Makeup Remover? Makeup Wipe Replacement
Top Five Best tips For Your Skin,What are some of the best skincare tips?
How do I Get Rid of Oily Skin? Why Blotting Paper Makes Sense
Oil Blotting Paper _Makeup Remover Cloth Mak
The incredible benefits of a makeup remover cloth and why you should use one
What are some of the best skincare tips? Best skin care for Oil skin